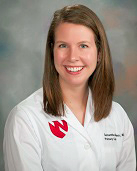 Physician joins West Holt Medical Services
Atkinson Graphic - Cindy P.
Saturday, September 12, 2020
West Holt Medical Services has announced the addition of Samantha L. Sholes, M.D. to their Primary Care Clinic team, effective September 1.
Dr. Sholes is a 2009 graduate of Elkhorn High School. She earned her Bachelor of Science degree in Biological Sciences with High Distinction from the University of Nebraska-Lincoln in 2013, and her medical degree with honors from the University of Nebraska Medical Center (UNMC) in 2017.
TO READ MORE ABOUT DR. SHOLES GET YOUR COPY OF THE SEPTEMBER 10TH ATKINSON GRAPHIC.